a film by JOE SWANBERG, CHRIS WELLS and KEVIN BEWERSDORF
Be our friend! Click here to visit LOL's MySpace page! Help us promote the film by adding us to your "Top 8." You can also find the pages of many of the stars of the film!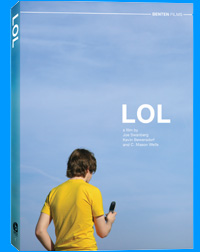 NOW AVAILABLE ON DVD!!!
We are very excited to announce that LOL will be available on DVD August 28th through Benten Films. This is Benten's first release and we have gone all out with the DVD, so we hope you'll check it out. CLICK HERE FOR MORE INFORMATION
BONUS FEATURES:
Director commentary, with scene specific contributions from Kevin Bewersdorf and C. Mason Wells
Cast commentary with Joe Swanberg, Kevin Bewersdorf, C. Mason Wells, Greta Gerwig, and Tipper Newton
Hissy Fits: a short film made as a test for LOL
Kevin-Casts: video podcasts documenting the making of LOL
Complete Noisehead Videos
The Artwork of LOL
Tipper Newton Casting Interview
Additional Kevin Bewersdorf performance footage
PLUS: It's Not You, It's MySpace, a new essay by GreenCine Daily editor David Hudson
"The inability to connect in a hyper-wired world is old news given fresh voice in this tragicomic indie about the way we live."
-Nathan Lee, The New York TImes - (REVIEW)
"LOL is a somewhat stunning mirror on the ways we say things without using words. [Swanberg] reveals himself to be one of the most emotionally astute young filmmakers working today."
- Cinematical.com - (REVIEW)
"LOL is a witty mini-satire of post-collegiates trying to connect romantically and erotically (at least, the women are) in a tangle of up-to-the-minute technology.
-Gerald Peary, The Boston Phoenix - (REVIEW)
"Go see this movie! It's funny and original...Joe Swanberg gets the most real, honest performances we've seen since the Duplass Brothers"
- The Duplass Brothers (The Puffy Chair)


LOL IS PODCASTING!
Sneak a peek at some of the rad Noisehead Videos that Kevin Bewersdorf has been working on for LOL. Subscribe to this Podcast to view the videos in iTunes. The vids are optimized for the video iPod, so you can take them with you wherever you go. If you click the link below and subscribe, a new exclusive LOL Noisehead Video will be beamed to your iTunes every week, free of charge. There might also be some bonus material that we sneak in there. So get with it!

Subscribe to the iTunes Noisehead podcast.